This case study proves that a fast transition to meet EU recycling targets is possible in less than 5 years. By Joan Marc Simon.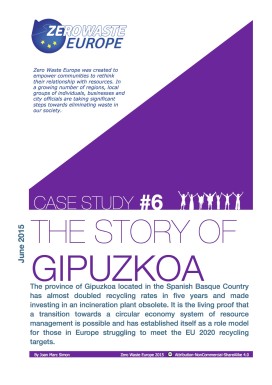 Zero Waste Europe publishes a new case study and video showing the transition of Gipuzkoa towards zero waste. This province located in the Spanish Basque Country has almost doubled recycling rates in five years and made investing in an incineration plant obsolete.
In 2011, the Province of Gipuzkoa decided to scrap the plans to build an oversized incineration plant and took steps towards Zero Waste, arguing that the plant was highly resource-consuming and it heavily endangered the circularity of resources. On top of saving € 250 million, Gipuzkoa has managed to meet EU targets 5 years earlier than expected.
Today, the province separately collects 51% of its municipal waste and plans to meet 70% by 2020. These improvements are even more significant when considering that only one fifth of Gipuzkoa's population live in municipalities that have followed a transition, which prove that the results of these municipalities are outstanding, some of them above 80 or even 90% of separate collection.
Executive Director of ZWE, Joan-Marc Simon said "the transition we are seeing in Gipuzkoa proves that reaching the EU target of 50% recycling is completely feasible in only 5 years. Therefore, with enough political it should be possible for laggards to meet the targets for 2020 and aim at more ambitious targets for 2030."
The drivers behind this change have been: political will, citizens mobilisation and participation, prioritisation of biowaste collection, intensive separate collection at source and not having built incineration capacity which would hijack prevention, reuse and recycling.
In less than five years, Gipuzkoa has moved from pushing for an outdated finalist treatments for waste to become Spain's leading province in recycling, being above EU's 2020 targets, and 12 points above Spanish average. Gipuzkoan towns have also proved that kerbside collection remains cheaper than roadside containers, while creating jobs and local economic activity.
Today, these case studies show that, in contrast with the outdated idea of burning or burying our waste, preventing, reusing and recycling it create jobs and resilience, save money, and protect the environment and public health.
You can download the case study here.
Watch the video of this case study